If you're a man on the precipice of marriage or have marriage as a life goal, one worry you likely have is "Will my marriage last?"
While divorce rates have been decreasing since they reached their peak in the late 1970s and early '80s, there's still a perception out there that marriage is just a crapshoot — a game of Russian roulette — and that the odds favor you ending up in a family court, or at best in a sad and loveless relationship. 
My guest today argues that doesn't have to be your fate as long as you take a proactive approach to marriage. With some thought and intentionality, you can help ensure that you have a happy, loving, fulfilling relationship that lasts until death do you part. His name is Les Parrott and he's a clinical psychologist specializing in marriage and family. He, along with his wife Leslie, who's also a marriage therapist, have written a book to help couples prepare themselves for matrimonial commitment. It's called Saving Your Marriage Before It Starts: Seven Questions to Ask Before — And After — You Marry. 
Today on the show, Les and I discuss how a man can know if he's personally ready for marriage, the myths people have about marriage that set them up for disappointment, and the conversations you should be having with your future spouse to help ensure you have a happy life together. While the conversation is geared towards soon-to-be-marrieds and newlyweds, even if you've been married for a couple decades, you're going to find some useful advice and insights in this show.
Show Highlights
How to know if you're ready for marriage
Why self-awareness is paramount for a successful relationship
The five attitudes towards marriage Millennials have
The effectiveness of pre-marital counseling in helping stave off divorce
What happy marriages look like
The expectations people have coming into marriage that can set them up for failure
The unspoken rules and unconscious roles in a marriage
The three factors that contribute to lasting love
How love changes as a relationship progresses and how to nurture it through the years
Why marriages are their strongest after 25+ years
How to cultivate passion in a long-term relationship
The saboteurs of marriage
The different needs of men and women in a relationship
Why conflict is good for a relationship and how to have a "good fight"
What couples who have been married for awhile, but are experiencing marital problems, can do to solve them
Resources/Studies/People Mentioned in Podcast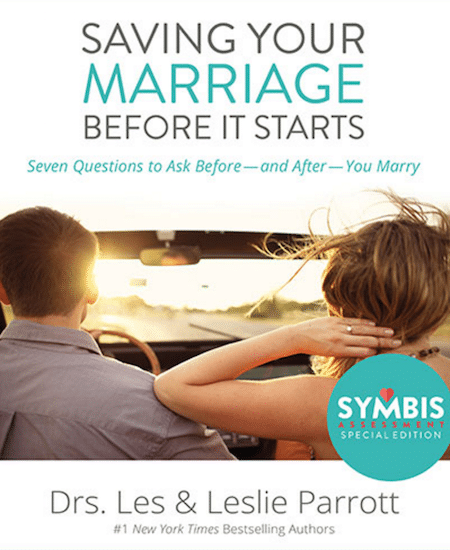 Saving Your Marriage Before It Starts is filled with research-backed insights and actionable steps that about-to-be married or newlywed couples can use to make sure their marriage starts off on the right foot. Even if you've been married for a few years, you're going to find the book useful. Also, consider taking the Parrotts' SYMBIS Assessment with your spouse for further insights about your marriage. 
Listen to the Podcast! (And don't forget to leave us a review!)